Once in a very long while, you might hit a chord and notice that it doesn't sound right. You plug your guitar into your tuner, and everything is in tune, but you go back and the chord still sounds off. The problem might be your intonation. Intonation is basically the correct length of each of the strings on your guitar. Due to the frets being at the same intervals along the fretboard, and the properties of different thickness strings, strings on a guitar must be at different lengths, and the length of each string is usually adjusted at the bridge. To fix your intonation, you must first identify what string(s) needs to be fixed and if you want to change it sharp or flat. Return your fine tuners to the middle of their range, unlock your nut, plug your guitar into your tuner and get it in tune, and then hit the natural harmonic over the 12th fret on each string one at a time. Each of the natural harmonics should be at the same pitch as the fretted note at the 12th fret of that string. If the fretted note is flat, you need to move the saddle towards the neck. If the note is sharp, you should move it towards the fine tuners.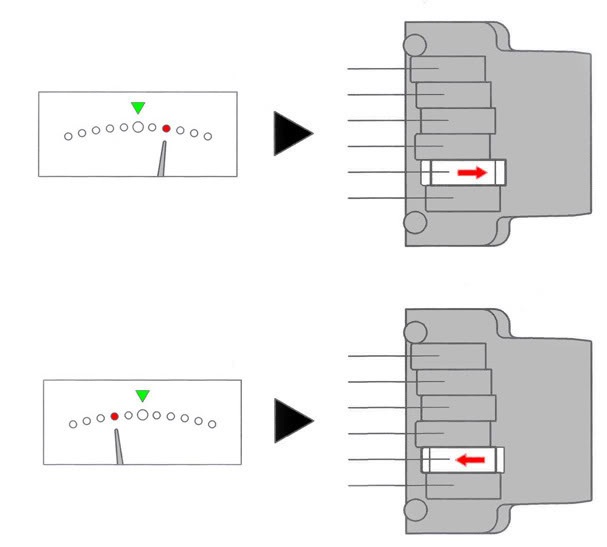 Step 1:
 It is also highly suggested that you temporarily block your bridge to prevent movement of the trem from interfering with the adjustments. Once you have determined which direction (toward or away from the nut) to move the saddle, loosen the string until it is limp.



Step 2: 
Loosen the intonation screw holding the saddle to the bridge plate while holding the saddle in place. Move the saddle in the desired direction a small amount (about 1/16in on the first adjustment and your best guess on subsequent adjustments) and re-tighten the screw. (There are usually two places to screw the intonation screws on the base plate. If the saddle will not move forward because it is resting against the intonation screw, you can move the screw to the next hole forward on the bridge plate. This will give you more adjustment range. Also, if you need to move the saddle away from the nut to a position where the attachment screw can no longer clamp the saddle firmly, you can move the screw to the next hole back on the bridge plate.



Step 3: 
Re-tune the string and check the intonation again using the procedure outlined above.



Step 4: 
Repeat this cycle until each string is properly intonated. 
When you're finished with the intonation procedure tighten your locking nut. Locking your nut will not change your intonation setting.